Why Design a Video Conferencing System in Your South Florida Home?
Melody offers 3 tips for bringing Boardroom Technology home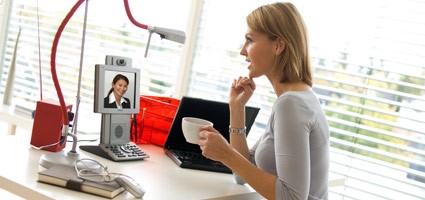 Whether you work remotely or have business partners in multiple markets, video-conferencing systems from Melody can give your home office the necessary capabilities to execute major projects and priorities, allowing you to effectively communicate with virtually anyone virtually anywhere.
With most businesses operating across multiple time zones and national boarders, the right technology is key to staying relevant in today's global economy. Telecommunications increase productivity and collaboration while reducing travel costs and employee relocation expenses.


Important Considerations when Designing a Video Conference System

Whatever the space – spare bedroom, breakfast nook or retrofitted garage – Melody has the in-person video experience solution. With video conferencing systems, additional factors must be considered besides those accompanying traditional presentation environments. Sharing your screen with team members in satellite offices requires solutions such as:

1. Networking - Devices like video conferencing systems place increased pressure on networks and require the support of a strong bandwidth. Most networks were never meant to handle the high demands of today's audio/video components. A well-engineered and secure network is essential to fend off embarrassing data loss hiccups during presentations (such as constant reboots, product failure or unclear images).
2. Integrated Control Systems - Installing a video conferencing system is the perfect time to integrate a fully-automated home system. Easy to access and operate, intuitive control panels offer limitless functionality. With the quick press of a button you can bring all of your network capabilities into the home office. Boardroom control and presentation solutions let you control audio, video, projection, lighting, screens, blinds, security and communication, all from your smart phone or tablet.
3. Lighting and Décor – For the most professional setting, and to ensure everyone can see you clearly, hidden floor lighting or wall panels may be used in to supplement traditional light sources. The room should be evenly lit using indirect lighting to avoid heavy shadowing. To reduce eye strain on video images, neutral shades such as beige, tan and other pale tones work best. To help reduce glare on local screens and camera lenses, finishes on the walls and furnishings in the frame should be non-glossy and muted.
From our skilled installation services to our all-encompassing project management, Melody, Inc. will help you build a system that best suits your unique private business model. With additional professional services, such as On-hold Messaging, Scent Marketing, Digital Music, Digital Signage Displays and more, we're prepared to help you expand your operations in whatever capacity you may need.

For now, whether you're telecommuting from Miami, Coral Gables, Weston, Pinecrest, or anywhere throughout South Florida, give us a call today! We'll simplify your surroundings, promote efficiency and productivity, and instantly improve your professional communications.