What Security Solutions are Available for Your South Florida Home or Business?
From Smart Locks to Surveillance Systems, Melody provides complete peace of mind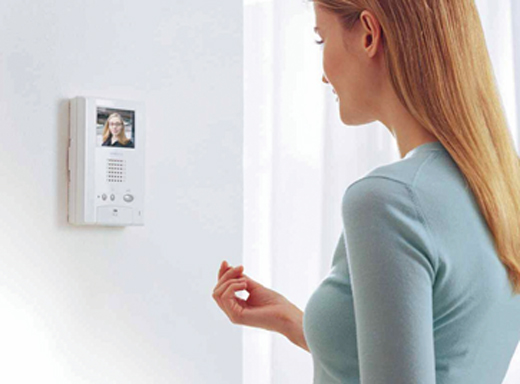 When you own a home or business, protecting your loved ones, valuables and employees is always top of mind. That is why Melody designs, installs and provides ongoing support for a variety of advanced security and surveillance options for your property. Offering a number of integrated solutions to our neighbors throughout the South Florida region, we provide the tools for you to keep an eye on whom and what you value most. Interested in the safety and convenience an integrated security system can bring you?
Smart Door Locks
Imagine if a single touch on your cell or tablet locked all the doors in your home, even when you are away. Digital passcodes allow you to temporarily assign a one-time use or limited access key for temporary visitors, deliveries and other workers. These unique codes can also be used to monitor the comings and goings of family members, house guests and cleaning services – sending text alerts when the keys are activated. You can incorporate smart locks from vendors such as Yale, Kwikset or Baldwin into your home automation system for a variety of features and benefits.
Automated Security Systems
We know that a little peace of mind goes a long way, which is why we work hard to make it easy for you to put safety first. As a leading provider of complete turnkey solutions for audio/visual integration we can take your smart locks beyond simple keyless entry, with an integrated automation system for your business or home. Our top-of-the-line solutions include configurations of various systems such as lighting, motion sensors, security cameras, network monitoring and recording systems. Have alerts sent to your phone while lights flash if someone approaches the door, ward off would be intruders. And, if the door opened, alarms will sound. Alert systems can even be put in place if a pipe bursts or the temperature drops in a certain area of your property.
CCTV and IP Surveillance Systems
Today's technology advancements are not simply for the home. Networked security cameras or closed circuit televisions (CCTVs) can be installed around your facility for an unprecedented level of organization and control over your surveillance data and access it from anywhere in the world. Our solutions offer high-resolution images for easy trespasser identification, theft protection, intrusion detection and access control.
In addition, we offer gate and door cameras with 2-way communication, as well as warning systems for smoke, water, fire and wind. Melody aims to make protecting your investment simple, and in the unfortunate case an incident does occur, integrated surveillance systems help provide a solid and reliable basis for any claims.
With today's ever-changing technology market it is more important than ever to partner with a trusted integration firm for all of your security needs.
Our team of specialists can install anything from a system for a small office or private residence to the complete deployment of an entire commercial property. Call us today to learn more of how Melody can bring you peace of mind!