Modern Automated Home is Proof That You Don't Have to Sacrifice Style for Sustainability
Melody AV Helps South Florida Family Turn Green into Gold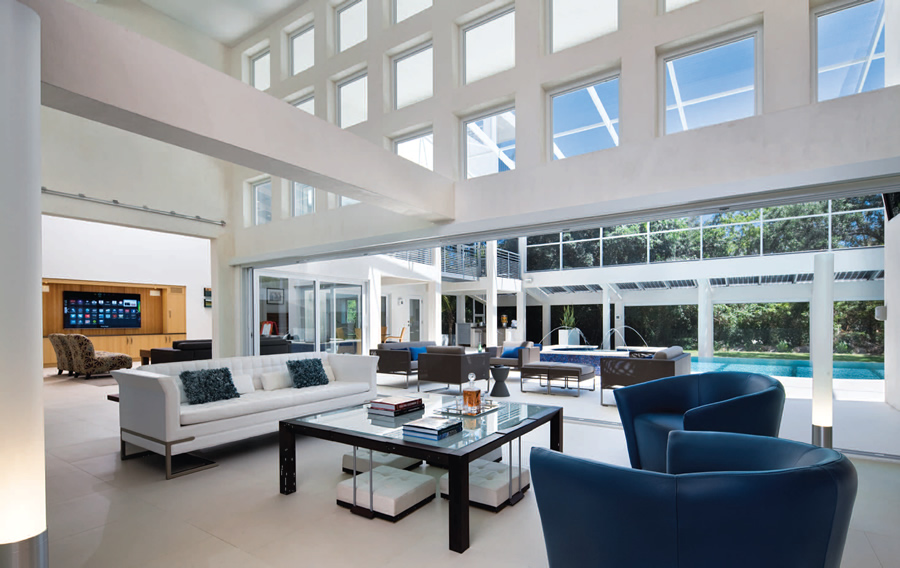 Award-winning Architect David Harper and his wife Jennifer, a business consultant in architecture, have a true passion for efficient living. Thus the couple made it their goal to make every inch of their 7,000 square-foot Pinecrest, FL home sustainable. Built from the ground up, this efficiently designed home is constructed with eco-friendly materials and integrated with a whole home Control4 system. With this Certified LEED Gold home, the Harpers and audio visual integrator Melody prove that style and luxury can go hand-in-hand with a sustainable lifestyle.
"By prioritizing sustainability, durability and safety, and allowing the resultant architectural form to be celebrated … the outcome was a purity of design not compromised," David Harper said.
The Control4 automation system, in conjunction with recessed energy saving LED lights, and a 10-foot diameter Isis fan from Big Ass fans help keep the green home cool, even with the Florida sun. The Control4 system integrates with lighting, shading, temperature controls and more, to make sure the home is cool and comfortable while still minimizing the Harper's carbon footprint.
This well-designed home was built on property adjacent to a 500-acre nature preserve near Biscayne Bay – the perfect location for a home whose combination of renewable and recycled construction materials, energy efficient home automation system, and solar panel implementation provide it with a net energy consumption of almost zero.
The driveway leading to the house is adorned with native plants and natural unpainted limestone, is almost entirely maintenance free. Paved with green grass, the driveway in a way remains hidden until their Tesla, a premium electric vehicle, is parked outside.
"It's such a rare thing to see a grass driveway at a residence that until it was proven, the inspector refused to sign off on a final certificate of occupancy because he believed there was no driveway," David says.
Adjacent to a 500-acre nature preserve with trails and bike paths leading to Biscayne Bay, a canoe launch and brand new dog park, this safe and quiet neighborhood is ideal for the active family with curious little ones.
The kitchen is adorned with FSC-certified bamboo and blue and green recycled glass tiles, this casual dining spot is built for warmth, as LED wire lights and a familiar nautical style in the adjoining great room, set the mood for larger parties.
"Building with the planet in mind used to mean compromising design vision and settling for sustainability over aesthetics," David says. "Not anymore. Design has come a long way and today, anything is possible."
The home receives most of its energy from the earth's most renewable resource – the Sun. Equipped with solar panels in the rear as well as solar hot water tubes, the backyard oasis hides these elements amongst other elements in the décor. Extra-large motorized shades protect guests from the Miami sun. With a waterfall that leads into the pool, spa and backyard pool, this South Florida proves that beauty and décor can coexist in sustainable luxury.
The team at Melody would be happy to provide you with a consultation on just how easy it is to be green. Contact us today.